Rogue Valley Farm to School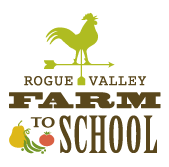 Granite Man is proud to be a fundraising event for Rogue Valley Farm to School. Rogue Valley Farm to School educates children about our food system through hands-on farm and garden programs, and by increasing local foods in school meals. We work to inspire an appreciation of local agriculture that improves the economy and environment of our community and the health of its members.
Farm to School programs link local farmers with schools. This simple concept holds great potential as a solution to two of the major challenges facing our society: concerns about the diet and health of children and the dwindling of small farms. By purchasing locally grown products, schools are able to serve fresher produce to students, create new markets for local farms, and incorporate exciting programs that meet state education standards. Farms gain a sense of community involvement by impacting the lives of children and becoming involved in agricultural education, while benefiting from increased sales.
Contact information:
Tracy Harding
Executive Director
541-488-7884
tracy@rvfarm2school.org
Melina Barker
Program Director
541-890-7004
melina@rvfarm2school.org
More information the website at www.rvfarm2school.org